December 31st, 2005
Jens Lekman is back in business.
Here's the news: My new "Kullaberg DVD-EP" will be shown at the Gothenburg Filmfestival in January. I will also perform there. In February I will play shows in the UK. The whole tour will be with Bill Wells, with some dates adding my friend from LA: Richard Swift. We're hoping to make a quick stop in Paris at the end too. Dates coming up soon. In March I will be heading back down to Australia again to play some festivals and just hang out. More about that later...
My vacation payed off well, I had my heart a little messed up again but nothing can bring me down right now. NOTHING. I am writing , recording and planning stuff 16 hours a day. I don't know what is gonna come out of it but I can tell you one thing: 2006 is gonna be the best year ever.
I leave you now with some pictures from Santa Cruz , San Francisco and Palo Alto.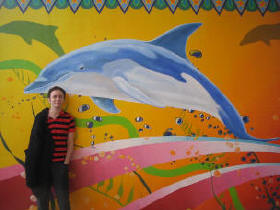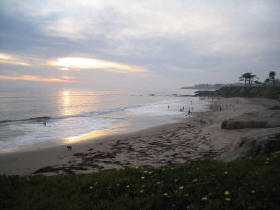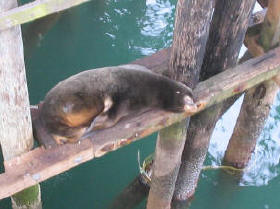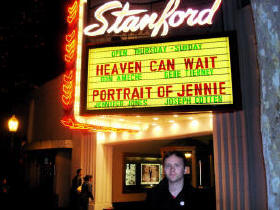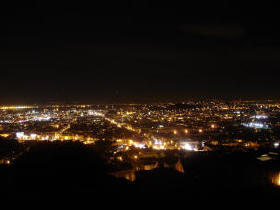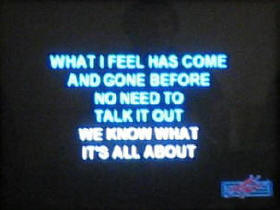 currently listening to:
* S.E. Rogie - Twist with the morningstars
* Piana - Something is lost
* Kalle J - Mapleleaves
* Still Flyin - We are better now (live for the first time) cd-r
-----------------------------------------------------------------------------------------
December 11th, 2005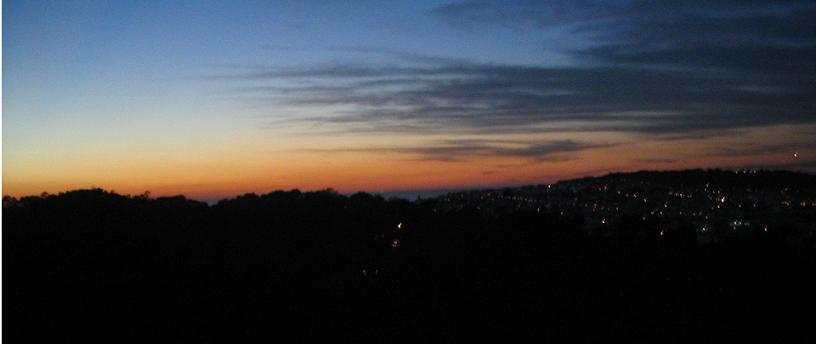 I am back in San Francisco. This morning I woke up to the sound of a coffee machine going
b-b-b-b-blup-b-b-b-b-blup and i was thinking ... poor guy, the girls must
be giving him a hard time for stuttering like that. Sometimes I have such an
unconscious empathy for dead objects.
It's a vacation for me. I used the money I made from selling the guitars to buy a cheap ticket. I'm trying to take it easy and just have fun. Yesterday I was just walking around, I managed to sneak into the De Young museum with a kind persons help. There I watched a nice lecture about the music from the Pacific Islands and bought some new instruments that I don't know the names of. After that I had a glass of wine and watched some flamenco dancing at a bar. It inspired me a little bit, and deep inside I don't enjoy being on vacation, I want to work.
Back to work. Back to school. Tracing the bread crumbles back to where I came from. "But all creating , no matter what, is always depending on your presence, your connection to something important, your happiness and perspectives on life". A friend said that. I'm gonna print it on a T-shirt.
My life is a big mess but it's ok. I have all I need here: A lemontree, a christmas tree and some friends. The sun is setting over the hills and some kid is playing piano next door. Have you seen Kore-eda Hirokazus' "After Life"? It's a movie about a station between life and death where the newly dead go through their memories for one special moment that they will take with them into eternity. It's actually my favourite movie of all time and I was thinking of it as the last rays of sun disappeared. Be still my heart.
* VA - You are our light (Jens Lekman cover record)
* Cake on Cake - Your dreams will come true (song)
* the Sweptaways - Let my shoes lead me forward (live at Södra Teatern)
* Tape - Rideau (album)
* Goldmund - Corduroy Road (album)
*Shugo Tokumaru - Night Piece (album)
---------------------------------------------------------------------------------------------------------
Dec 4th ....ALL INSTRUMENTS SOLD...
Nov 29th, 2005
Hey you, do you wanna buy an instrument? I need to get rid of some stuff cause this place is just so full of old junk. And I hate going to music stores cause the people there always laugh at me. Here's the thing : I don't know anything about musical instruments. Especially not guitars. And I don't have feelings for them either. I find that almost perverse. So I want to hear if anyone is interested in any of these things, I could probably ship it anywhere in the world at your cost and risk (although the amp is pretty heavy, that'd probably be expensive). If you want any of these, write an e-mail to jens@srvice.com and tell me 1. Why you want it 2. Where you live 3. How much you want to pay for it (excluding shipping). I can send you a hi-res jpeg if you wanna have a closer look.
PS. Thanks for all the nice e-mails I've got recently. I will write back to you all as soon as i can. And don't think this sale has anything to do with me giving up on music. I just need to have some space cause I'm turning my livingroom into a dancefloor.
fender electric guitar

i'm not sure why i bought this guitar. i only used it once, at a secret show with the embassy in göteborg. it needs to be repaired cause there's an electrical problem. people say it's a nice guitar though.

marshall valvestate guitar amp

this was used from april 04 to summer 05. it has always worked well. very cool dame darcy sticker on top.

walden acoustic guitar (with mic)

i bought this new in april 04 and have been using it at shows ever since. everything works great. battery needs to be changed. very solid hardcase.

harmony electric guitar

if i would have feelings for instruments , it would probably be for this one. i bought it from a friend when i was sixteen for 50 kr and it's on all songs i've ever recorded with electric guitar. black cab, mapleleaves, you are the light etc... it was also with me on stage on all shows until fall 2004. it's been working great and it's really easy to play. the high E string has always been missing cause i never used it anyway. oh, and it has my blood on it :-)

johnsson mandolin (with mic)

this was used on the recording of psychogirl, julie, silvia and some liveshows. the mic isn't that good but it does its job. it's in very good shape. one string missing.

nameless wooden ukulele

this little thing was found at a fleamarket. it has three steel strings (one missing). not sure what it sounds like, i only bought it cause it looked good.
---------------------------------------------------------------------------------------------------------
Nov 25th, 2005
A day at the races...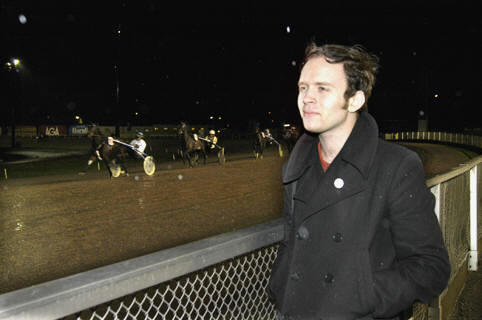 Last night Tammy saved me from boredom by taking me out to the Åby V65 horseraces. I have never been interested in gambling but I like looking at horses. Tammy works as a photographer there, she's the girl who takes the winning horses picture. I sat down in the cafeteria and the whole place was like the boat between Rödby - Puttgarten, I almost felt a bit seasick. So I put my I-pod on shuffle and , I swear... this is true, it started playing Manfred Mann's Chapter Three. This doesn't seem very spectacular, but two minutes earlier I had heard the speaker call out "Horse number two - Manfred Man!". I started sweating, I don't know anything about this game but this must be a sign I thought. I managed to calm myself down. I counted my money, looked at the people around me, nah... it's not worth it. I gotta pay my rent in a few days. A man sat down next to me in the stairs and started crying like I've never heard a grown man cry before. A woman dressed in white with a red cross on her arm and a cigarette behind her ear took his arm and without a word she led him into a room. I stepped outside to watch the horses , Tammy took my picture, then rushed over to the winning horse - Manfred Man.
---------------------------------------------------------------------------------------------------------
Nov 20th, 2005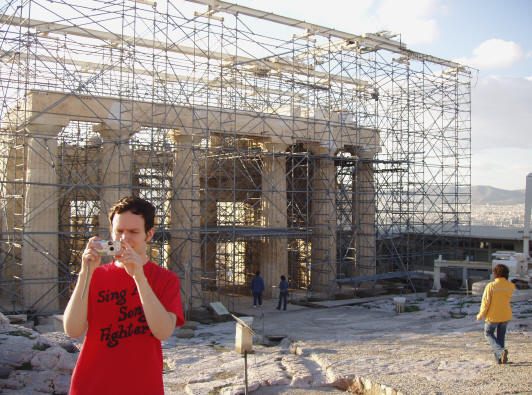 (photo by Christos)
A week ago I saw Andres Lokko's heartbreaking portrait of Dan Treacy on This Is Our Music (check it out Here) . I once covered his song "Someone to share my life with" (probably one of the most covered songs of all time these days, next to Moon River) , not really knowing what it meant to me at that time. Then I heard Dan say "I got a new album coming out, couldn't give a fuck... fuck the TVP's... I would swap it all just to have a nice girl in my life". And I realised how much that song means to me right now. That just about wraps it up for me and how I've been feeling the last year. Well, not exactly like that. I'm looking for a home more than a girlfriend. Or maybe a sense of belonging to refer to another great song by Dan. But on and off I've felt like I wanted to trade places with someone, if only for a day.
I've been thinking and I want to clarify my Nov 11th entry. Here's the background: Earlier this year I heard rumours that were circulating about me. They were funny and absurd. I laughed a lot. Then they started involving my friends and family. My friends came to me and wanted to know what was true and what was not. I told them what was true and they believed me. Then I fell in love with someone but she didn't know what to think cause she had heard so many stories. At this point I was very frustrated and didn't know how to handle everything so I did the worst thing and started blaming people and blacklisting one journalist after another , which just made everything even more confusing for her and eventually it came to an end. After this everything progressed like this: I decide to take control over every word written about me - No one wants to interview me because of fear of being blacklisted - The US tour is about to collapse because no one wants to write about it - I have to choose between paying 10.000 dollars or take back my demands - I don't have 10.000 dollars so I take back my demands and feel really shitty about it - I realise I am living in a bad compromise.
So this is why I've come to this point. This is why I've decided to take a break and think about what I want to do and how I want to do it. I understand that part of the problem is that I talk very openly sometimes when I do interviews and when I write on this website. That's how some of the rumours start - as misinterpretations. But I don't want to talk about what I eat for breakfast. All my life I've been keeping things inside of me and it is not until now that I've learned how to let it out.
Things are getting better here, I am feeling inspired again. Saturday night I played what could've been my last show ever in a small bar in Athens, Greece. It was packed and people were crazy. Such a perfect ending to over two years of touring. But I have counted the dates and I've done 198 shows. It's not a good number to stop with...
* El Perro Del Mar - God knows (song)
* Portsmouth Sinfonia - William Tell Overture (song)
* the Embassy - It pays to belong (song)
* Woody Allen - Bullet in my breastpocket (joke)

---------------------------------------------------------------------------------------------------------
Nov 14th 2005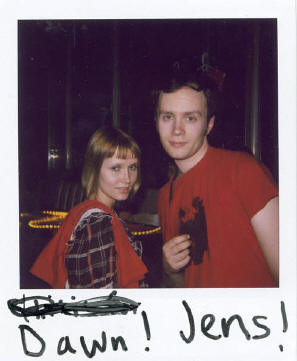 (polaroid by Vi Thuc Ha)
My friend Dawn rollerskated into my life one beautiful evening in San Diego. She just came up on stage and started playing flute and I knew that she was a good thing. Later she played me a song that has been haunting me all year. The song is called "Angel" and was written by a man named Alan Batson, her father. They didn't meet until she was 18 and he wrote this for her after their first meeting. Alan never put out any records but recorded a lot of music before he passed away a while ago. Dawn is gonna send me more songs and I'm very excited about it. The song sounds so honest and sad, not just for its dreamy homemade sound with drummachine / synthesizer... but just for its pure existence. It makes me think of East River Pipes saddest lullabys, only Alan has a voice much deeper and more beautiful.
Dawn has given me permission to let you download the song:
---------------------------------------------------------------------------------------------------------
Nov 11th - Göteborg
Hello my friends. Here's my plan for the future: I have cancelled all planned shows except the already announced Athens show. That will be my last show in a long time. Tomorrow I will start looking for a job, maybe I'll be a telephone interviewer again... at least that's what I've been telling the customs when they ask what my profession is. The recordings I've been working on have been put on the shelf. I am not happy with them and so I can't say that there's a new record on its way. I actually can't say that there's ever gonna be a new record at all. Although deep inside I know that as long as there's a heart in this chest there will be new songs.. The rain has got to fall.... I am also looking for a new place to live, or at least spend some time. Maybe a city, maybe in the country. Probably a long way from Sweden. Next year I'm probably going back to Australia one way or another to see if it feels like a home , like it did last time. I have started drawing again, feels like a long lost friend... don't know why I gave up on that just because art school sucked. I love drawing so that's something I'm gonna do. And I'm gonna write about my thoughts on this website so don't stop coming here. There will be new stuff coming up. And one of these days I'm gonna sit down and write letters to all my friends, one of these days... one of these days...
* Alan Batson - Angel
* Strawbs - You're always on my mind
* Terry Melcher - These Days
* Pep Laguarda & Tapineria - Alceu-Vos,Xe,Que Ja Es De Dia/Sent
* Tracy Byrd - Drinkin' Bone
* Still Flyin - Fuck the stress
Nov 6th - Toronto
I think this was exactly what I needed. Playing in a church with the Hidden Cameras, with a real church organ, and live drawings / animations by the wonderful Shary Boyle (www.sharyboyle.com). I have never seen my songs come alive like this before. Oh, Toronto... I miss you so much.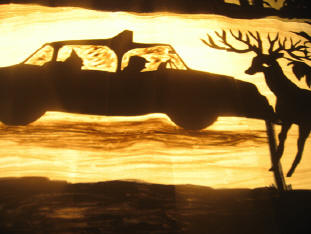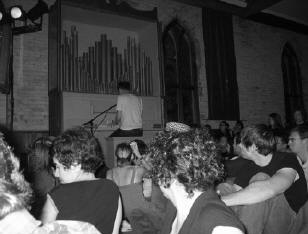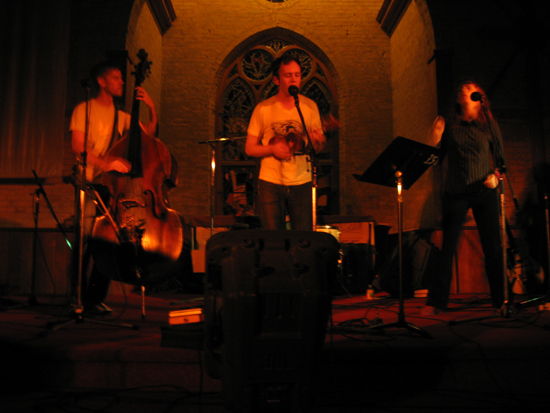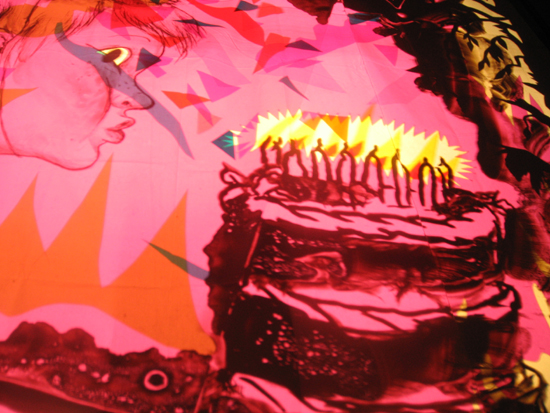 (photos by Erin P)
Nov 1st
Played a halloween show with the 20 something piece reggaeband Still Flyin, under a lemontree in the beautiful backyard of the 22nd street house we live in. It's hard to tell at first if they're being serious about their music after seeing the flyer for the show but their songs are actually really good and the show was beautiful. They treat reggae the same way Lambchop treat their mixture of soul and country. With brass and xylophone they create melodies as laidback as San Fransisco itself.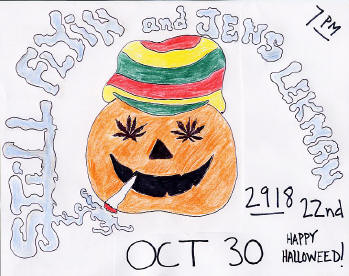 October 30th - San Fransisco
I know now that the show I'm doing in Athens, Greece will be the last show in a very long time. I love playing shows, the LA and SF shows were amazing and i had so much fun. But I'm kinda messed up emotionally and physically. I gotta go on a vacation for a long time, find out where home is, who is my friend and why I don't know that already. I will stay here for a few days, San Fransisco will breathe some new life into me, I know that. But then my life's gotta change somehow. This is not good.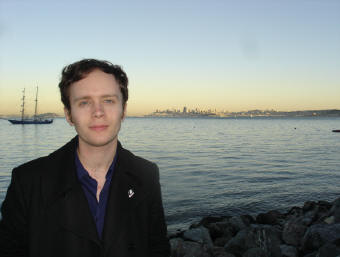 (photo by Gary O)
October 27th - from El Paso to Tucson
On our way to Tucson we stopped to see "the Thing". A body that was found in the desert and looked kinda weird. The exhibition was held at a gasstation in the middle of nowhere and I think the guy who owned it was a nazi cause a lot of the other objects were stuff like "an old car , just like the one Hitler used to drive...". Actually, "the Thing" was a disappointment. The only funny thing was that when you looked at it from above, the reflection of the flourescent light made it look like he was holding a lasersword (see picture below).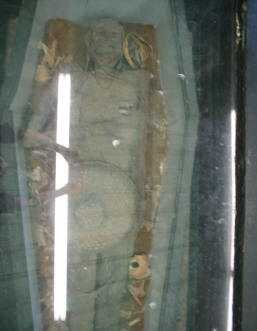 Oct 26th - From Austin to El Paso
I really wanted to go back to El Paso, I love how the landscapes change and how there's just miles and miles of nothing. I thought it would clear my mind but instead I started thinking too much again. Damn you moodswings... But while we were driving through the desert all of a sudden we saw mysterious hovering lights in the sky and the doors on the van started frenetically locking and unlocking themselves. I don't know what it was but it made me so happy.
Oct 25th - Austin
Austin, austin, austin.... I love Austin. I had a great time at Emo's , best show so far... but then I broke down again when we came back to the house. Nothing to do... didn't wanna sleep. Someone played piano and I started crying.
Oct 24th - Houston

We were supposed to play in New Orleans but that got cancelled of course. It made me sad but I loved playing Houston last time so I was looking forward to it. And we had a great time, even though it felt kinda weird with all the shit the city had gone through lately. And while Wilma was raging in Florida we were drinking red wine and having a great time.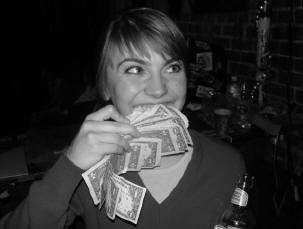 Oct 23rd - from Bloomington to Little Rock
Day off, Tony bought himself a moustache.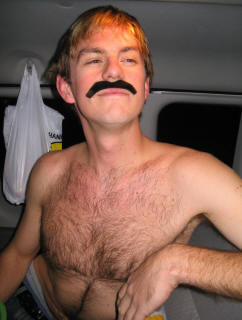 Oct 22nd - Richmond

woke up early, went to see the 40 year old virgin. it was pretty funny. then off to the Earlham College. holy shit, those kids were dancing. it was one of the funniest and sweetest shows i've ever played.


Oct 21st - Bloomington

It's pretty hard when you have so many friends at one place and only a few seconds to talk to them.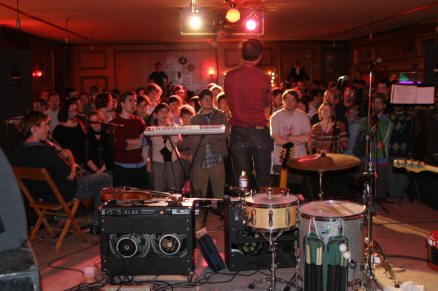 the number of friends I have in Bloomington is suprisingly also the capacity of the Second Story nightclub (photo by Tammy)


Oct 20th - Chicago

Chi-ca-go is a favourite city of mine.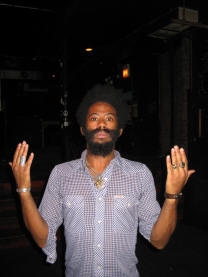 and Rob at Empty Bottle is a favourite person of ours


Oct 19th - Cleveland

Same place as last time, I hated that place when we played there in february. This time we decided to not let anything get in the way of doing a great show. So we did. Nedelle got caught in a weird spoken word art installation. The 1 $ mystery beer was not as good as last time.


Oct 18th - Somerville to Pittsburgh
Day off. Nothing happened. We got to Pittsburgh. Fell asleep.


Oct 17th - Somerville

I love Boston and Somerville. And PA's lounge is a really nice place. But they gotta do something about those monitors and speakers. There were lots of nice people as usual though. Thank you everyone who chose Black Cabs for Beauties instead of Death Cabs for Cuties. And our friend Alyssa took her job as a dance instructor very serious. So we had a great time. Then off to Salem to spend our night in a haunted neighborhood, just a block away from an old abandoned prison and a cemetary. I'm really glad Gary Olson is with us, he has the biggest smile and the warmest heart. All ghosts were charmed for sure.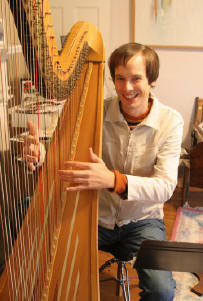 Gary Olson in harp heaven, spending the night at Harp Queen Emilys' place.



Oct 16th - New Haven

I like hecklers. They always make a show a little more exciting.


Oct 15th - New York City

Woke up in Dartmouth and decided to cancel the tour. I sat down and tried to figure out how much I would owe the band, my recordlabel etc... and thought about how I would tell everyone. I went into a total coma and could only think of everytime I've fucked up in my life. I just wanted to fuck it up even more. After arriving in NYC I don't remember what happened. But I remember the show. And it was so beautiful. I didn't want to stop playing. I fell asleep happy, dreaming of white birds flying above the skyscrapers.


Oct 14th - Dartmouth

More school cafeteria dancing... More afterparties with drunk kids. I was given a small guitar as a gesture of drunk kindness, It was lovely and I played a few tunes to say thank you. Everyone played beer pong. I started thinking dark thoughts. Don't know why. Passed out.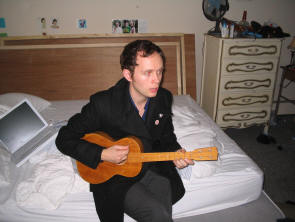 Oct 13th - Bennington

This is the first time I've been to an artschool college party. I've seen stuff like this in movies, I never realised it was even crazier in real life. Everytime you'd open a door to a new room there was something weird and / or illegal going on. Those kids were so drunk or stoned. A guy named Tony , who called himself Stoney, came up to Honeydrips-Mikael and asked him "is there a swedish word for the pain of living?". The show was great though, so many people dancing and jumping around. And we sure picked the right time to go to Vermont. All those colours of the fall, they made me happy.

-------------------------------------------------------------------------------------------------------
October 12th, 2005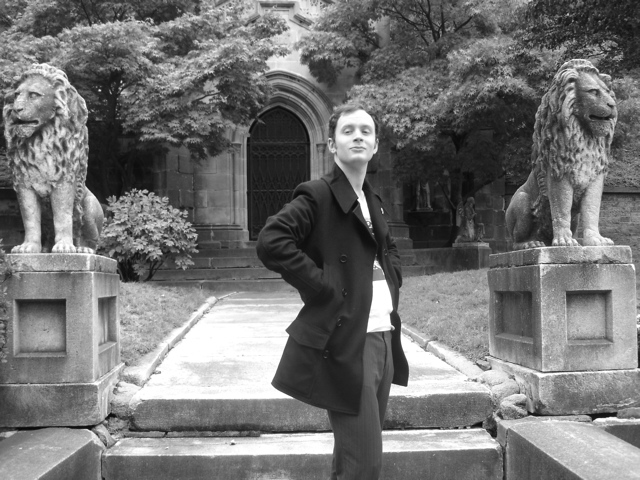 Green Wood Cemetary (photo by Gary Olson)
Dear friend, i am in the USA. So give me your adress and i will send you the only white dove in New York City or call out your zipcode in the Grand Canyon. The last weeks have been hard on me, I've felt lonelier than ever. So coming out to America has made me a little kid again. So many friends I haven't seen for such a long time, spread across the continent. We're gonna collect them over the next few weeks and find new ones too.
The new tour EP is just finished, we have a few sleeves left to make but we'll take care of that tonight. It features four songs: last years christmas single that never came out but is an excellent popsong + one of the saddest and most sincere songs i've ever written + a song in japanese by Nagisa Ni Te + a swedish version of Mapleleaves. Each copy has an original photonegative taken by me attached to the cover which is a piece of brown / yellow paper ... some of which have drawings on (same paper as the australian EP). I am very very proud of it, both artwork and music. I encourage anyone who buys it to have the photo developed. It is limited to 200 copies , max 3 per person (we want it to last all tour). The only way to buy it is to come to one of my shows.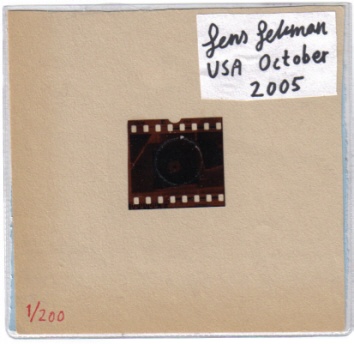 Good things:
Grimaldi's (good pizza)
Amy Linton (person)
Bill Wells - on the beach boys bus (melody)
Service (recordlabel)

-------------------------------------------------------------------------------------------------------
September 28th, 2005
Just wanna say hello and welcome to the new website. I'm having a small party by myself here, dancing around in my livingroom and writing HTML at the same time. I got tired of the ads on the TK site. No more pacific islands for me... There will be some development in this site I think now that I've got some real tools to make websites! yay!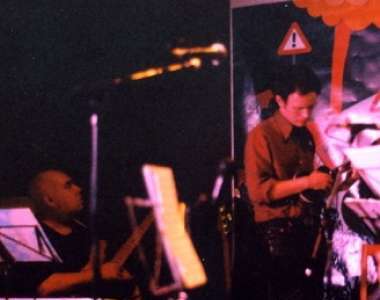 It's late and I wanna go to bed. But I should also tell you again that Bill Wells and I are playing two exclusive shows in Gothenburg and Stockholm this weekend. I really hope I'll see you there!
with love,
J
----------------------------------------------------------------------------------------------------------------
September 19th, 2005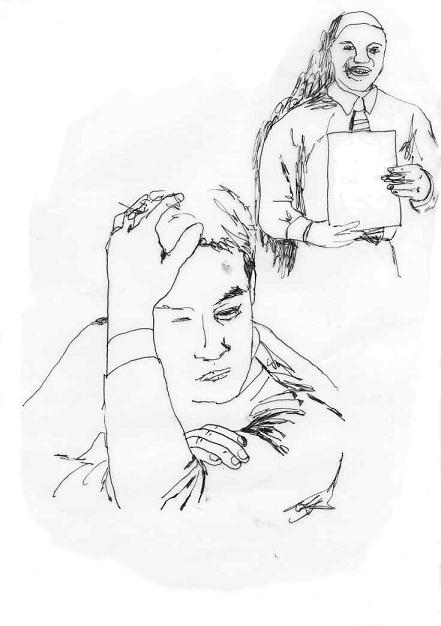 - I want to do an interview with Jens Lekman, what do you think about that?
- Cool! Here's a few thoughts:
1. I have a lot of respect for you as a journalist , fanzine writer etc... I'm glad you're into the art of writing and I'm thrilled you want to write about me. So please treat me with respect too. I always want to proofread everything before it's published. I won't ask you to change your text, you can write that I'm a stupid , no-talent, ugly jerk if you want to. But I wanna make sure my quotes are correct. This is mainly because I'm no good at talking and expressing myself in speech. I end up mumbling and a lot of times my words come out all wrong. Despite this I still want to read the whole article, not just my quotes. I want to know in what context my words are placed.
This is really important for me, if we agree to do an interview I must read it BEFORE it's published and have a chance to contact you if I find something. If you ignore this wish I will not talk to you or anyone related to the publication you write for ever again. I have already blacklisted about 10 - 15 journalists / newspapers and three of the largest media corporations in the world. I know I'm not a big star, but a lot of my best friends are musicians you probably like. We share our experiences with each other and make sure we don't work with someone who's treated our friends like shit. This is the main reason why I'm this picky, as much as it hurts me to be misquoted and sometimes have caused confusion among friends, family and people in general... the thing that hurts me the most is to witness how big media corporations run over small artists because they think we depend on them.
2. If you're thinking of talking to me live - on the phone, in a studio, on tv etc... you will meet a guy who's not very good at talking. I will answer most questions with "yes" , "no" or "uh.... " . I'm not good at formulating thoughts into spoken words. That's why I write songs you know. To get some good material for a written article I highly recommend writing me an e-mail. Of course this does not work if you want me in a tv or radio show, so I make exceptions for that sometimes. A good idea if you want me in a situation like that is to invite me for a short chat, or have me play a few songs. A whole hour based on me talking can be a disaster. Seriously.
3. If I agree to do an interview with you I will do my best to answer your questions. You can ask me ANYTHING you like. But there are a few questions I've been asked one time too many. You can ask them if you like but you won't get a good answer. So one last time:
Q: why did you call yourself Rocky Dennis?
A: Rocky Dennis is actually my real name. I saw this very touching movie from the 80's about the guy Jens Lekman who was born disfigured but won everyones love with his big warm heart. He falls in love with a girl but her parents won't let them stay together. I wrote a song about him and the girl and then a radio DJ thought Jens Lekman was my given name. So I had to change it cause people were talking about Jens Lekman all the time. My mom named me Rocky cause when I was a kid I liked to rock back and forth so she started calling me Rooocky.... my mom is Cher by the way. She's a biker and she used to be a coke addict but I got her out of it.
Q: How would you describe your music?
A: I never answer this question.
Q: Julie, Lisa, Silvia... there seem to be a lot of girls in your songs. How come?
A: Because I like girls.
Q: What kind of equipment do you use to record with? Can we come visit you in your studio?
A: I never answer this question because I think it ruins the magic of recorded music. So no you can't come to my studio, It's as if Willy Wonka would invite the kids into the kitchen of a Mcdonalds.
Q: You're from Sweden, what do you think about ABBA?
A: It's funny that they took that name - ABBA, you know they just took the first letter from each name and put it together. but what if they called themselves BABA! or ABAB , or AABB. or my favourite: BAAB!!! ha ha!
4. Do some kind of research. You don't have to but our conversation will be so much better! This website - www.jenslekman.tk - that you are looking at right now, is the best place to start. Then there are www.mapleleaves.tk and www.jenslekman.cjb.net - both of them have lots of info and old interviews. And most important - my records. If there's anything I do like talking about it's my songs.
5. I have many times decided to never do any interviews again. Because of bad journalists and the frustration of being compressed into a tiny fragment of what I am, a fragment that a lot of times has nothing to do with me anyway... But I want to belive that it doesn't have to be this way. And I know being in newspapers is in many ways necessary to be able to go places I haven't played before. Thank you for reading this.
Jens Lekman
----------------------------------------------------------------------------------------------------------------
September 9th, 2005
Review of the weekend 26th to 28th. And the one before that: (by Jens Lekman)
Last weekend I was in Glasgow on vacation and decided to play a show at Plan B's event at Mono. I did two shows, one with Bill Wells and one where he, Isobel Campbel and hornplayers Robert and Raymond backed me up. We rehearsed for five hours the day before at Isobels flat. First half an hour on Bills songs. Then tea and biscuits for two hours. Then half an hour on my songs. Then tea and biscuits for two hours. I was a bit nervous but reminded myself of my new motto: The best way to connect with people is to make an ass out of yourself. Playing with Bill was really exciting. He would just direct the music on stage, morphing the horns into loops with his sampler. It might be jazz, it might be pop. I don't know. He's a good friend of the unexpected and purely improvised but doesn't shy away from a melody of gold. One of his new songs is based on a dream he had about how Brian Eno goes to the doctor because he has a "Troublesome Malady" in his head. Bill would never do that, instead he lets his Maladies grow and become something that can never be cured. Nice one, Bill! (5/5)
Oh, and my own show was of course flawless. (5/5)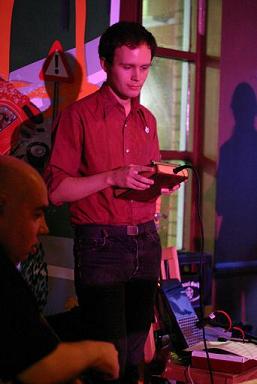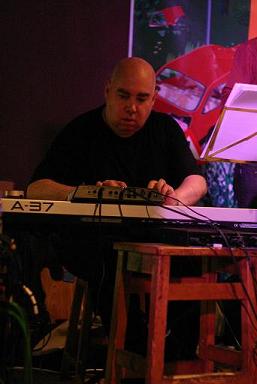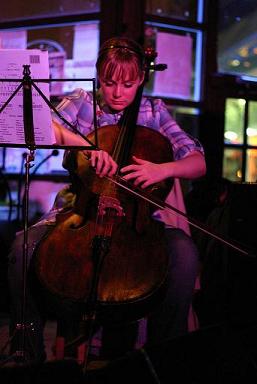 The weekend before that I did my very last wedding show at Magnus Carlssons and his sweetheart Elins wedding. It was probably the best wedding ever. No talk of sin and death. Just love and lotsa fun! So why was this my last wedding performance? Well, after studying this topic for a while , having had a number of offers after writing "If you ever need a stranger", I've come to the conclusion that I do not believe in traditions and contracts when it comes to love. I never have. And I hate that I've become a spokesperson for marriage sometimes. I just wanted to study the people who did it cause I've never been able to understand them. After studying Magnus and Elin though, I have come to the conclusion that they are forever lost in each other, married or not. Cool! Top score for them and me! (5/5) True love can not be measured through these simple pleasures. But I would still cut off my right arm to be someones lover.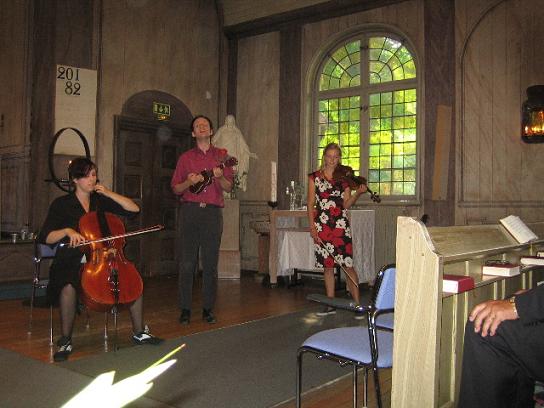 True Love:
Moondog - Paris (track from "the German Years 1977 - 1999")
Gary Mcfarland - America the beautiful (album)
Cat 5 - Some indulgence (remix, better than the original!)
Chris & Peter Allen - My silent symphony (best record i've ever bought for 1 kr)
the Butterflies of Love - Rob a bank (old, rediscovered favourite)
Verity Susman - Our last night together (I can't believe I'm right now one of only two people who've heard this song)
---------------------------------------------------------------------------------------------------------------
August 18th , 2005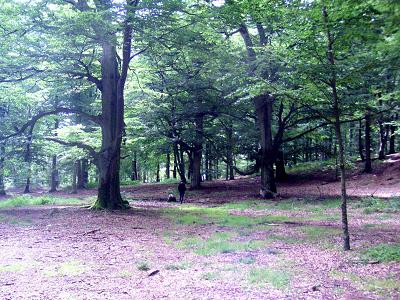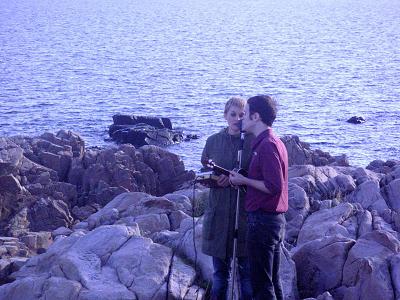 This Sunday I recorded a new DVD-EP. It was recorded live at a few different locations at Kullaberg which is an old inactive volcano and a wild life sanctuary on the south west-coast of Sweden. How , When and If this will come out is yet to be seen. I haven't had a chance to see the material yet.
Songs included "Your Arms Around Me", "The Rain Has Got To Fall", "Happy Birthday to Shame" , covers of Matching Moles "O Caroline" and Arthur Russels "A Little Lost" + Maybe five other songs. Sarah from El Perro Del Mar was there too and sang on some songs. Now i'm hoping the end result will come out as I wanted it and not as nature-romantic pornography. It's a thin line... singing about love and death on the cliffs with the waves rolling in.
--
A Hole in My Heart Filled With Songs:
* the Shortwave Set - Is It Any Wonder
* Clor - Outlines
* Boom Bip - Do's and Don'ts
----------------------------------------------------------------------------------------------------------------
August 8th, 2005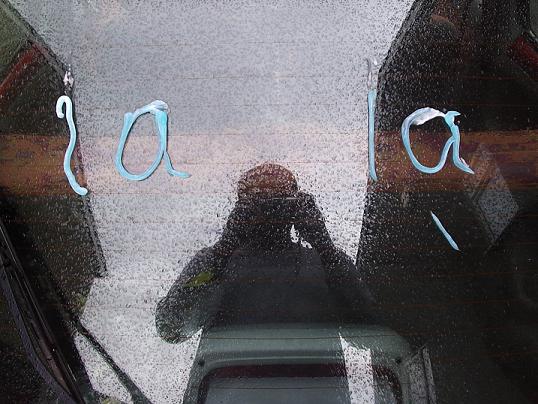 The competition is over. And the winner is William Sandersson from England with "La La" written with what looks like toothpaste on a rainy window. The reason I fell for this is because La La is simple and true.
La La means I love you...
Here's a selection from the 94 other ones I got, they came from all over the world: Chile, Canada, USA, Holland, Norway, Australia and Sweden... Good work my friends!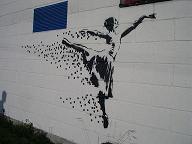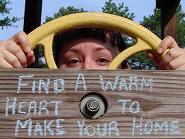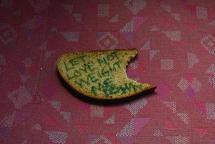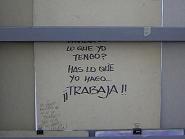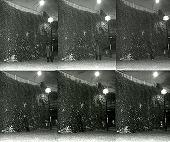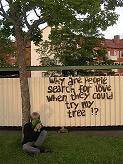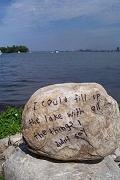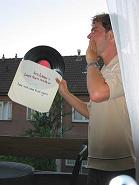 Reasons to be cheerful:
* Alton Ellis - La La means I love you
* the Delfonics - La La means I love you
* New Buffalo - Inside (the corrections, feat. Jens Lekman)
* NRBQ - Magnet
* Los Lobos - I got loaded
* Ian Dury - Reasons to be cheerful (part three)
----------------------------------------------------------------------------------------------------------------
July 21st, 2005
COMPETITION: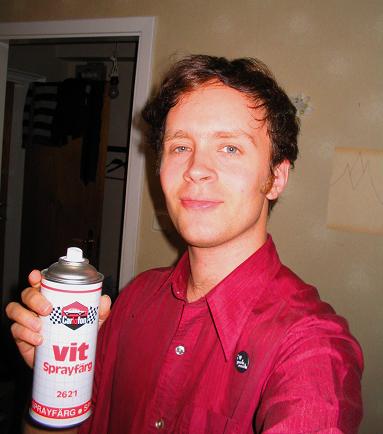 I've received so many e-mails the last couple of days from people who say they've given up on everything. Life, love, friends... And some of you say that it's easy for me to speak of love coming back when there will always be someone waiting for me around the corner. Well I'm sorry to have to inform you that that's bullshit and you know it.
So I want you to do something for me. I want you to go out and spraypaint something on a wall, a house or your old mans Mercedes. it could be a word, a sentence or a picture. If you don't have a spraycan you can use a marker or you could draw it in the sand on the beach if you want to but that's sort of missing the point. I just want you to let the world know that even if life is hard you're not gonna fall in love with your own misery cause you're above that. But use your own words. Be creative. And eh... don't use too many references to me or I'll end up getting busted for this.
Take a picture of what you did and send it to me (jens@srvice.com). The one who's prettiest, funniest or most daring will receive a package with my first vinyl 7" , the José González split, the Australian tour EP and some kind of surprise item. Rare, long out of print stuff...
You have two weeks!
GO! GO! GO! GO!
----------------------------------------------------------------------------------------------------------------
July 17th, 2005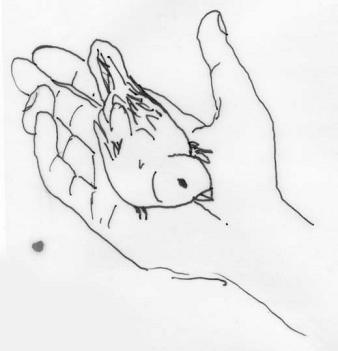 I woke up this morning (or afternoon...) and checked my e-mail. And there were all these e-mails from people telling me to cheer up. First i had no idea what you were talking about. And then i remembered sitting up until 7 am feeling down and writing about it on my website.
As a dear friend wrote: "I remember once you told me that you've been lonely your whole life, and I think all your fellow creature-people know what that is like. But if you get caught up in mythologizing your own loneliness you'll be trapped in a perpetual cycle of self-defeat. Go into the world on a sidewalk you've never walked before and have a holiday from your own thoughts." I liked that. I think I need a holiday from my thoughts. But I do feel better , I just had a little black out last night. Also, I don't think it's my job to talk or write about my sadness. I think it's my job to write about how to lift myself above it. And as i wrote in the end: LOVE WILL COME BACK AGAIN. I believe in that. Do you?
How are you feeling? Remember i used to be dr. Love around here? Let me hear about your everyday life too! And send me pictures! I like pictures.
The two fansites mapleaves.tk and jenslekman.cjb.net have turned out to be really good. They both know more about me than i know. I go in there sometimes to find out exciting news that haven't reached me yet. And then I found the lyrics sections and i haven't laughed like that for a long time. At first i thought i would write to them and correct the mistakes, but i'm amused of peoples imagination and the way they have put together words i've never sung to sentences that actually sound better than my own! Good work! My favourite hasn't been published but reached me through my e-mail from Fredrik Johansson:
"I would've caught a fried-eyed dog to be someones lover" (if you ever need a stranger)
What a wonderful metaphor!
All my love,
Jens

ps. Have you heard Bill Fay's first self titled album? I think you will like it. ds.
----------------------------------------------------------------------------------------------------------------
July, 16th, 2005.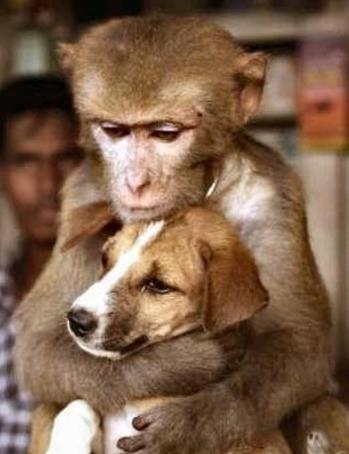 Once again i am facing the fact that my life is run by tiny misunderstandings. And all i can do is spend my days going through old e-mails from her, searching for a point where it all went wrong. I have to keep myself from going insane, that something so sweet could be ruined by something so pointless and dumb. And now it's too late. The clues are all around me, but I will never solve this one. Give up, Jens.
L
O
V
E

W
I
L
L

C
O
M
E

B
A
C
K

A
G
A
I
N

----------------------------------------------------------------------------------------------------------------
Diamonds:
Tom Zé - Dor E Dor (my favourite brazilian) ---->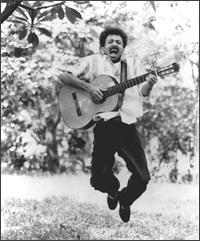 Vapnet - Kalla Mig (best chorus this year, almost as good as Kaah's song)
Coco Rosie - Ohio (Damien Jurado cover)
Faith Evans - Again (if i had to do it all again, i wouldn't take away the rain cause i know it made me who i am)
Gruff Rhys - Epynt (a song about a mountain, and the battle between the euro and the pound)
Mike Batt - Fading Yellow (from the fading yellow boxset. who is this guy?)
Phil Ochs - Draft Dodger Rag (I only told half as many lies to the military)
Paul Simon - Thelma (from his brazilian period, the production and his voice sounds just as mesmerizing as summer is now)
Pascal Comelade - Like a Rolling Stone (mr. Comelade should make a record with Bob Dylan. I would buy it)
Henri Salvador - Beta Gamma L'Ordinateur (crazy french people. I like)
Renaldo & the Loaf - Hambu Hodo (crazy brittish people. I also like)

----------------------------------------------------------------------------------------------------------------
July 2nd, 2005
Just got a few stories for today: 1. Sometimes people tell me that they've met through my music, often that means that they met on a dancefloor when one of my songs were being played. That's lovely. But I was very moved to hear about how Kalle and Stina (see picture) met through one of my auditions for the choir i put together last fall, I remember them, and I remember thinking that they really had something in common. They never made it to the actual choir though but they went to the show and ... I'm not sure what happened but something did and now they're in love. Cool!
2. here's two mp3's from the 99 festival that my cellist Mikaela arranged, That night i played with a portable recordplayer. singing along with some of my favourite songs from old 45's etc... It was a beautiful night.
Your beat kicks back like death (scout niblett)
3. there's another new fansite up at www.mapleleaves.tk , looks very nice!
4. Berlin is currently my favourite city.
SWEDISH TOP 2:
1. Fontän - Alla kan se dig
2. Suburbian Kids with biblical names - Guns N Ammo
----------------------------------------------------------------------------------------------------------------
June 19th, 2005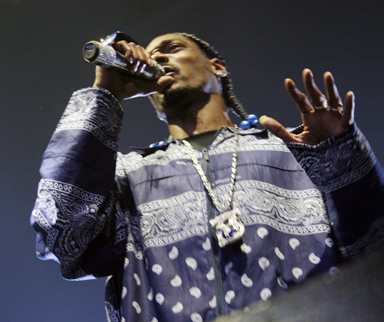 So I went down to Hultsfred this weekend and I actually had a good time. I went down to play with the Hidden Cameras and before I left I asked Frida Hyvönen if she had a seat left in her car for me and she asked me why I was going there. To do a little guest appearance, I said. With who? she asked. With Snoop Dogg! I said. I'm gonna do the snooooooooop-part on Drop it like its hot, Ha Ha! ...She didn't think it was funny, but when I arrived all these journalists came running up to me saying: I can't believe you're playing with Snoop! Is it really true? Apparently, her boyfriend Jon had done some good work spreading the rumour very convincingly.
I watched the Magic Numbers play a perfect show, such simple complex songs. When they sang Mornings eleven they made me think of Prefab Sprouts "Steve Mcqueen". the way they take a quite complex arrangment and still make it a song you can hum two seconds later. With the plastic country chorus, just like "Faron Young", and the vocal harmonies pouring like honey over it all. I got the chance to sit down and talk to them and drink their wine afterwards and they were really nice. So nice that I got nervous and started drinking a lot of wine. The next thing I know I'm watching Snoop show softporn on two enormous TV screens and i hear a guy in front of me say "I've heard that Jens Lekman is gonna play with him, but that can't be true right"?
July will be a recording month for me. I will not do any shows, I will practically not leave the house. I have so many songs to get out of my head. I have them finished more or less, the less ones are more exciting. Here's a few songs I am working with right now:
* I Am Leaving You Because I Don't Love You - I was working with a remix for TTA's Take No Heroes and came up with something that I was very happy with. I sampled strings, bells and piano and turned it into some kind of symphonic soul. But then I just took my parts and made a song of my own. It's a song about telling the truth so that one day we can look back on this and be comforted by the clarity.
* It Was a Strange Time In My Life - A story about when I once had a great plan to stop talking , and the way that a stranger ruined it for me. It's also a story of how quiet people are seen as mysterious when in fact they are most of the times just boring.
* At the Drive-In Bingo - A song I've played live many times. It's about when me and Patrik from the Kid talked about buying a small village in Skåne and bring all our friends. Since everyone's moving into the city these days it shouldn't be that expensive, we thought in our naive minds.
* Your Arms Around Me - About when I once cut off the tip of my indexfinger. I've played this in many different versions.
* Kanske Är Jag Kär I Dig - means Maybe I'm In Love With You in swedish. But some feelings are not that easy to translate.
* Sipping the Sweet Nectar of Rebellion - A lovesong.
I hope to have a record, an EP or a minialbum out this fall. This year is already getting packed with shows... another US tour coming up in late October etc etc.
By the way I'm looking for a violinist for my band in Sweden! - Someone who's used to play live and likes popmusic. Preferably a guy actually cause I don't really want an all female band like the one I have now, that was never my intention. The band I have now is perfect but we miss a violinist. If you can sing too then you're almost guaranteed a spot in the band, unless you're the worlds biggest asshole. please write me at jens@srvice.com
Favourite Non-Jens Lekman songs tonight:
* the Magic Numbers - Love is a game
* Bob Sinclar - Love in C-minor
* Nicolette Larsson - Lotta Love
* Jeffrey Humphrey feat. Dumb Buddy - So High
* Kama Aina - Carry me on
* Nedelle - Tell me a story

----------------------------------------------------------------------------------------------------------------
June 15th, 2005.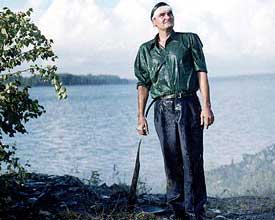 I'm in Helsinki, last night I had a very finnish experience. I went into the dressingroom behind stage at Telakka, Tampere. And there was the guy from Kaurismakis "The man without a past" , naked, on his way into the sauna! I apologised and grabbed a Koff from the fridge , smiling inside...
Tonights show in Helsinki should be really nice. Everything's beautiful right now, the sun is shining, we're listening to russian singer Novella Matveeva (...or something, its in russian), she sounds like a little bird. I love it!
Here's a new fansite that i found today - www.jenslekman.cjb.net

i havent had the time to look at it properly but it looks really nice. i'm so flattered because this is the first real official unofficial fansite that i've heard of. let me know if there's more.
Favourite music in this area right now
* Novella Matveeva - (track 5 on the cd)
* the Rollstons - Doing time CD-R
* Harry Hunks - The boy who makes horses run and frogs fly

and i'm reading Tony Hoagland - "What Narcissism Means to Me".
----------------------------------------------------------------------------------------------------------------
June 9th, 2005
Me at the ukulele festival last saturday (photo Jonathan Arvidsson). I mean if Håkan hellstorm can do Allsång på skansen, why can't i do Ukulelefestivalen? I really enjoyed some of the other performances as well... the ukulele kids were great when they sang Varm Korv Boogie.
I totally forgot to write about the european tour i did in April. Well, it was great. Highlights included: Finding the summer in Berlin. Dancing all night in Rotterdam. watching Jenny Wilson do a shaky but very heartfelt first show with us in Amsterdam. Having a danceparty on our own in an abandoned disco in Magdeburg. Bringing all the popnerds in Stuttgart outside to see how beautiful their city is. Telling my band what they did last night the morning after the show in Munich where they played the worst swedish rockmusic ever but everyone danced anyway. Watching the Alps glow in the dark like evil giant monsters over Innsbruck. Playing in a garage dedicated to John Malkovich in Verona. Playing for the people of Bologna, the most emotional people on earth. Meeting Feist in Rome + the expression on my keyboardplayer Ulrikas face when we went looking at monuments (she's an archeologist). and last but not least , the punk mansion in Darmstadt.
I still felt a bit lonely and confused while being on that tour. I broke down in Munich but Terese took care of me and talked me out of the worst. Some nights I just didn't want to stop playing cause I felt so loved when i was on stage and I felt so lost when i was going to sleep every night. It had nothing to do with not having a girlfriend or whatever... it was more like I just didn't know who was my real friend. And not knowing what direction my heart wanted to go. Sometimes all this is just too much to take in at the same time... thank you so much all of you who sent me e-mails after that April 13th entry. I didn't think twice when i wrote those lines, they just came from my heart. Some friends think i get too personal here at the smalltalk section but if you've kept reading this far you're probably a friend of mine anyway, close or distant. i want you to know how i feel. how else can we communicate?
Thank you for reading,
Your friend Jens
Songs you should buy or download right away:
* Amadou & Mariam - Sarama
* Tunng - Mothers Daughter
* the Magic Numbers - Mornings eleven
* Bread - it don't matter to me
* Bill Cosby talks to the kids about drugs - Dope Pusher
* Tahiti 80 - Don't misunderstand
* Lone Pigeon - Unknown Yesterday

PS.
Next week I will be in Finland playing with the Hidden Cameras. In Helsinki we're playing at Dubrovnik, the bar owned by amazing director Kaurismäki which i've been told is also the same bar that appeared in "Moln på drift". I will also join the Cameras at Hultsfred, I don't know what's gonna happen there. you never know with that band.
DS.
----------------------------------------------------------------------------------------------------------------
May 20th, 2005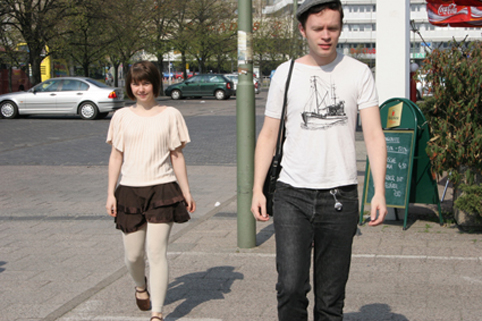 Hello. sorry for the silence, I've just been overwhelmed by the beauty of Australia. First of all Melbourne. from the architecture to the friendly people ,the music scene , the weather - it was paradise! Last monday i did some recording with Sally / New Buffalo in her house. It made me warm inside to meet someone who's so open and passionate about her music. she showed me some new songs that were amazing, I would never dare to invite a stranger into my home and play unfinished recordings just like that. I also met her husband, Darren from the Avalanches, I can tell you that I saw a lot of cool records in their house! They gave me some tips about good recordstores and me and my bassplayer Terese went to check them out. We talked our good friend Emily into buying the Embassys "it never entered my mind" 7" which we found in a second hand shop. Question: if you live in paradise , do you find it less exciting and beautiful? would a Melbourne native find for example Gothenburg more paradise-like? i have a pretty ok apartment only 15 minutes from the centralstation in beautiful Kortedala. wanna trade?
On Tuesday we played with Guy Blackman and Architecture in Helsinki at a classy place where people were sitting in leather couches sipping on martinis. Guy sat down by the grand piano and played some of the most beautiful songs I've ever heard. I have to admit I was a bit surprised, It's not very often I find men with guitars or pianos very exciting but he just blew me away. I got his record "Guy Blackman in Japan" and his compilation "Songs from Nao" with japanese music and I loved it.
I also have to mention Ballarat , where I had the best brekkie ever and even though half of the crowd was noisy i had a lovely time with the other half. And Adelaide where the crowd was the best ever. And Freemantle, oh boy... i wish you could have seen me sitting with my feet in the water on my veranda, sipping on some freshly pressed orange juice. And thanks to Tara and the other nice people in Perth who took us out to a little sunday night afterparty. And Brisbane that reminded me of the Starke Adolf scene in Gothenburg four years ago. And now we're in Sydney... I've been walking around all day looking for a Kalimba - one of those little african thumb pianos, but no luck so far.
i found out a few days ago that swedish singer and actress Monica Zetterlund had died and it made me very sad. So we've been singing "Vem Kan Segla förutan vind" for her every night. I've used a translation like this: "who can row without an oar? who can sail without wind? Who can part from a dear friend without a tear on your chin?" I like that translation cause you gotta cry a big tear if it's gonna make it down to your chin. My best memory of Monica is from my favourite movie Äppelkriget (War of the apples).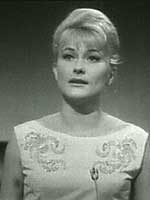 H:\Documents and Settings\Jens\Mina dokument\MP3\favouritetracksrightnow
* Guy Blackman - Older + Answer me my love
* Cut Copy - That was just a dream
* Darren Hanlon - I Wish I was beautiful for you
* Nikaidoh Kazumi - Temperature of windowside
* Andersens - Swan
* Architecture in Helsinki - Do the whirlwind
* New Buffalo - I got you and you've got me

--------------------------------------------------------------------------
April 13th, 2005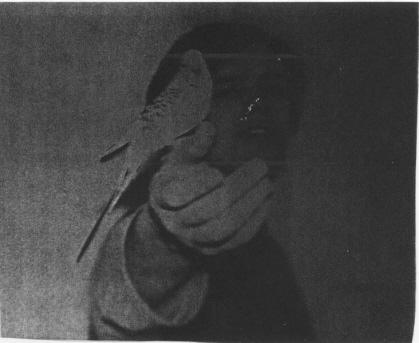 (me and Roy , the only one who truly understands me)
Hello, sorry for being out of the loop for some time. I've been feeling down for some reason , I thought it was just the weirdness of being home again but it feels deeper than that. For the last three weeks I've been sitting at home , just staring at the walls. Maybe I need someone in my life, I've been feeling so lonely and lost lately. I haven't had a girlfriend for four years and it feels like i sometimes don't have faith in love... but love is just scaring the shit out of me.
Sometime ago I heard that there are rumours of me and Frida Hyvönen being together. Ha ha, yeah in my dreams i guess... I don't know if this has spread (someone said it was in a newspaper) but no, it's just a rumour. And I've heard there are more rumours like that. Don't believe them.
Some week ago i had enough of being lonely and just jumped on a bus down to Malmö. There I spent some time with Johan Duncansson and I realized that he's one of the nicest people I know. On the way home I listened to his (Radio Depts) latest EP "This past week" and I felt as if I was gonna crack into little pieces and then be put together again. Universe was for once in 100% sync with me, I could see clearly and I knew exactly what I had to do. But by the time I came home I had forgotten it all.
Well, very soon I will be on my way through Europe together with my new band and the amazing Jenny Wilson (www.jennywilson.net). I am looking forward to leaving my sorrows behind and look for new adventures. My friend Alex is teaching me some old italian lovesongs so watch out! And then in May I'm going down to Australia with just a bassplayer and my samples. I've been listening a lot to australian music lately, like New Buffalos new album and Architecture in Helsinki. And I can't wait to hear the new Avalanches album, if it ever comes out... They are the only band that I've written a fanmail to. When I was really sad during the fall of 2001 I only listened to Since I left you (the song) and I knew that there would actually be better and lighter days. It is for me what Joy Divisions "transmission" is for others. I think I'm gonna listen to it now...
"Since I left you... I've found a world so new... "
(I think in the Main Attractions' "Everyday" where they got the sample from , he's singing "Since I met you". I like that.)
other music I listened to on my trip to Malmö:
George Katsiris - Coming up for air
Judee Sill - the Phantom Cowboy
the Fife Reivers - the Goldfish
-------------->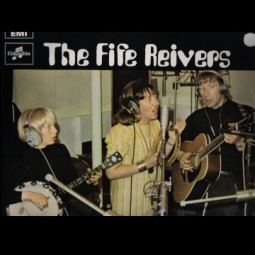 --------------------------------------------------------------------------
March 23rd, 2005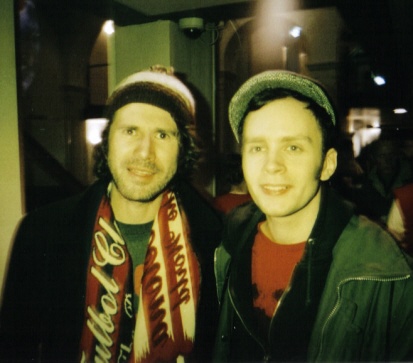 Check this out:
http://3voor12.vpro.nl/21456479
It's the elevator session I was talking about. Also check out Gruff Rhys' session , where me and my stringplayers stumble in and start jamming. And oh... There's a third session with the Wedding Present.
gold:
* Bill Wells - Incorrect Practice
* Future Pilot AKA - Remember Fun
* Blossom Dearie - Now At Last

--------------------------------------------------------------------------
March 12th, 2005
I'm in Toronto and I'm homesick. Today I went to the Cinemateque cause they were showing Roy Anderssons' " En Karlekshistoria". It made me think of last spring when his production team - Studio 24, shot my video. I remember I was standing in my knights armour when Roy came out and stared at me. I smiled but he just walked away. Anyway, I really love that movie. There's so much warmth in it, what happened to that warmth? Why does he make those depressing cold movies these days?
Yesterday I had some nice chinese dinner with my friend Owen. He has a band called Final Fantasy which is great. I've only heard some live recordings but it sounds amazing. He plays violin and loops parts with his pedal, making it sound like a small orchestra. I tried to get him over for my european tour but he's playing with the Arcade Fire these days. Busy guy...
Tomorrows show at Wavelength will be special. I will have more than half of the Hidden Cameras backing me up, Joel is playing clarinette!!!! See you there.
and I'm listening to:
* Final Fantasy - (untitled song in my head)
* the Republic of Safety - I like to work
* the Wonderful sound of the Toronto streetcars

--------------------------------------------------------------------------
March 8th , 2005
I just want to write a quick note about this: You know I didn't win the grammy for best lyrics a month ago , and I said in a couple of interviews that if I did I would give it to someone. If I would have won I would have sent it to David Berman...
My song "You are the Light" contains lines taken from his book "Actual Air". To make a long story short, I once got a loveletter that contained the lines about using your one phonecall to dedicate a song and the phrase "you are the light by which i travel into this and that" written in swedish. I translated it back to english and made a song out of it unaware of the words origin. Even though I had a copy of the book that I'd read and loved , the similarity never struck me until last year when it was too late.
All of a sudden I had a radiohit in Sweden. And soon it started playing on the college radio stations in America. I've been feeling bad about this. I've been in contact with Bermans publisher and offered song credit and royalties but never got a final decision on how to proceed. I never heard back from him... I decided to keep quiet about it thinking that mr Berman was embarrased about the whole thing. But during the last month I've been getting a lot of credit for those particular lines in articles and reviews and I don't want anyone to think that I'm trying to get away with it.
Please pick up a copy of Actual Air. It's honestly one of the most beautiful collections of poems I've ever read. David Berman is one of my biggest influences in writing lyrics and everytime I read the book I'm inspired to create new music and make up new stories.
favourite songs right now:
* the Silver Jews - I'm gonna love the hell out of you
* Nat Baldwin - (untitled 13-track CD-R)
* the Impossible Shapes - the Princess
* Feist - Mushaboom

--------------------------------------------------------------------------
March 6th, 2005
It's over and I'm confused. I'm so scared of going back to reality, I've never had such a good time in my whole life. Minneapolis , Chicago and Bloomington turned out to be the best three shows of the tour. Especially Chicago, but maybe that was just cause it was the last show and it was sold out. I met my japanese friend Maiko and we talked about setting up a show in Japan. Cause I'm going to Australia in May and I could maybe stop by in Tokyo on my way there. If you know anyone who'd like to book me there, please send me an e-mail.
So, this is what I've got coming up: April 15th to April 30th - Europe (including Italy, Germany, Holland, etc...) and May 7th (?) to May 23rd - Australia. And I'm hoping to come back to the States in September / October. European and Australian dates are soon coming up on this website.
March, 3rd , 2005
I'm in the Rocky Mountains, on the longest and most uncomfortable trip I've ever been on. We're going from Seattle to Minneapolis and then to Bloomington in three days. My cold swedish butt is hurting from sitting in the van so long. But I still recommend travelling by van through America. The mountains are beautiful and the stars are so bright when the sun goes down. Portland and Seattle were great shows. Gotta go , we've stopped at a place that has a big sign that says "Testicle festival" , should be interesting... apparently they sell burgers made out of bulls testicles. oh I wish I wasn't vegetarian...
February 26th, 2005
I've never seen so many pretty boys and girls... I wanna move to S.F. I felt a bit down after last nights vocal break down so I bought a dozen roses for myself. They cheered me up. The night ended with dance party in Oakland again. And then back to the warehouse , falling asleep while Nedelle played some of her beautiful songs for me. I tried singing a spontaneously translated version of Orup's "Stockholm" for her, but it didn't sound very good. Next day we had some amazing California breakfast at some friendly peoples place I can't remember the name of. Fresh strawberries, blueberries, raspberries, pancakes, bread just out of the oven... Erlend and Bart Davenport sang some soft songs and I looked up into the sky and sent a little prayer saying: hey God! go on and spoil someone else now, I don't deserve this really.
February 25th, 2005
Another show that wasn't planned, Oakland... at a warehouse art gallery called the Lobot. So many friends were there and I was happy, it seems like we bump into Erlend Oye all the time. But I don't mind... He's such a great and funny guy. But there was something in the Oakland air that screwed up my voice. I lost it completely and I got so scared I almost started crying. cause last time it happened it took a month to recover and my life lost all meaning. I swear, if I lose my voice I will kill myself. It turned out fine though. A walk in the parks of San Fransisco turned out to be the best medicine.
February 24th, 2005
I know I've probably just seen the surface of L.A. the parts that the city wants you to see, but I loved it. my friends Vi, Chi and Dawn played strings and flute and we had a great time. Lots of adventure. I still have sand from Venice beach in my hair.
Februry 22nd, 2005
Arizona is the best landscape so far. Obviously I guess. we took a break in the desert and i wrote some new songs under a big cactus. On the way back I almost stepped into a big hole filled with thick spiderweb. In the mountains we were taken by a violent thunderstorm. it was beautiful. Tucson was great, one of those shows where ten people show up but it really feels like you wanna marry them all.
February 21st, 2005
We like playing smalltowns and decided to stop by Odessa on our way to Tuscon. It turned out that people had travelled for hours to get there to see the show. i saw a lot of cool birds. Then we drove to El Paso to sleep and watch the lights from Mexico across the border.
February 20th, 2005
I've just played at Good records in Dallas. I used all my merch money to buy their dusty old Theodorakis records. He's my earliest and probably biggest influence. I know you probably think of Zorba and awful drunk greek vacations when you hear his name but he's written some of the catchiest and most beautiful lovesongs I've ever heard. I had to throw in some other records - Ariel Pink, Free design etc... so they wouldn't think I was crazy. Now I'm in Denton. It's beautiful... and so hot. It's like July in Sweden.
February 18th, 2005
Mary Janes Fat Cat in Houston has a backyard and we had a little barbeque party. Houston is a big city I can tell even though we're in the outskirts of town. I love the way that american cities make me feel like I'm 8 years old and playing Outrun - you know the videogame where you drive a red sportscar with your arm around a blond girl and when you got close to finishing you could see the city skyline. I loved playing the show, but I got involved in some peoples romantic troubles... a guy came up before the show and told me he wanted me to give a rose to a girl who was gonna be in the crowd. I usually don't do stuff like that but he seemed sincere and told me they'd been in a fight. So I gave the rose to her during the show and dedicated a song to them. But apparently she tossed it right away and got upset. I'm sorry. I was stupid to take sides in something I did not know anything about.
February 17th, 2005
Jackson , Missisippi. The Impossible Shapes wanted to do this show instead of having a day off. Sure... I said. I started regretting it after I'd been called faggot for the third time by some guys in the bar. When the Shapes started playing a guy came up and mooned them. I didn't want to play so I decided to hide in the van. But the guys who called me faggot were hanging out in the parkinglot with a big black dog and a baseballbat. So I went inside and played the show. And somehow it seemed that people actually liked it. I even sold more records than I did in NYC.
February 16th, 2005
I love Atlanta!
February 15th, 2005
Warmth! No more winterjacket. I met my friend Gail O'Hara from Chickfactor and we talked about this and that. The show was wonderful! I was so happy about being able to go outside in t-shirt that I took the crowd outside and played without amps or mics. I don't like mics and amps.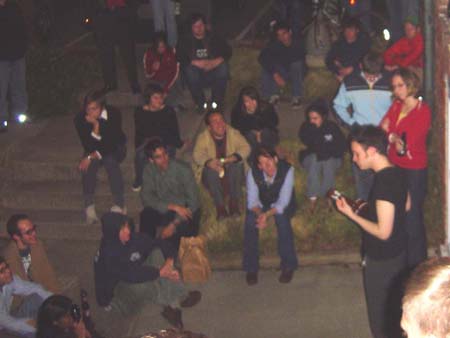 February 14th, 2005
Day off in Philly. Rick took us to his show with the polyphonic spree. I was kinda sceptic but they put on a great show. I can't remember one single song but all the colours and dancing people made me happy. Valentine's day is stupid. Especially here in america. You can't buy love for money. At least you shouldn't spend more than 900 kronor on it. I bought myself a rose. I would like to give a bunch of them to the lovely people at the show last night too.
February 12th , 2005
NYC is the most beautiful place I've seen so far. And the biggest, loveliest crowd I've ever had outside of Sweden. I liked the guy who shouted "Stephanie" all the time and apparently was on a blind date. I hope he found her. After the show my friend Amy took me out and I got really drunk. I remember being in a karaoke bar with her and my other friend Shirley while J.D. from le tigre and a bunch of other people were singing destinys childs "survivor". Amy told me when we were on the subway that people , whole families, live down there. That some of them even have kids that go to school.
February 11th, 2005
Travelled for 10 hours... but it was worth every stinky gas station sandwich. I didn't get to see much of Somerville or Boston but all the faces in the sold out venue was enough. The opening band -Pants yell, played some beautiful tunes and even covered "Tram # 7" . it made me blush... I ended with singing Julie and noticed that someone was singing along in the background . it turned out to be Erlend Oye from kings of convenience. Afterwards we had a little party and we made up some songs, Erlend is really good at that. He told me about how Tom Cruise had tried to get his friend Sondre Lerche into joining the scientologists after his performance at the Nobel peace prize awards. Rick , our violinist, told us that everyone in his band - the polyphonic spree had also been contacted by mr Cruise about the same thing. So we made up a song about that...
-------------------------------------------------------------------------------
February 6th, 2005
Its my birthday today. Yesterday I played in the small beautiful town of North Manchester again. I sang the swedish birthday song for myself since i didn't think anyone would sing for me anyway. Then I explained the beauty of the swedish welfare system (the first verse translates something like "May he live until he's a 100 years old" , it's nice to live in a country that actually wants you to live that long even though you at that point probably cost a fortune). Then just as i was going to sing You are the light , the lovely people at the Firehouse came up on stage with a cake and everyone sang happy birthday. It almost made me cry.
This US tour has just started but I'm already planning a european tour in April and a few possible dates in Australia in May. I'm looking for stringplayers to join me in Australia... probably just for two or three shows in Sydney and Melbourne. If you would be interested or know someone who could be, please send me an e-mail. jens@srvice.com , I can send transcriptions and recordings and stuff right away.
I'm very happy for the Manifest award prices i won, Thanks a lot! And I'm sorry for sounding so grumpy about the Grammies and all that. It's just something I wasn't prepared for when I started releasing records and I just felt like i had to take a stand for one side. It's really not a big thing...
Last week I played in Amsterdam, when I stepped into the elevator at the hotel I met Gruff Rhys from Super Furry Animals who was standing there playing on a little Casio keyboard. I picked up my ukulele and we stood there for half an hour entertaining the people who dared to ride the elevator with us. Ha ha... it was beautiful. Later that evening he put on one of the loveliest performances I've seen in a long time.
I'm very happy at the moment and I've got so many new songs. All this touring makes it hard to plan new records at the moment, but I'll probably have something coming out late spring or early fall. Or maybe I stop playing along with the distributors stupid ideas about when people buy more records and release it in the middle of the summer! Ha ha ha.
No favourite songs at the moment. I'm very open for suggestions.
Love,
Jens
-------------------------------------------------------------------------------
January 21st , 2005
some of my favourite celebrities , as seen thru the lens of my Lomograph colorsplash camera: (from left up to right down - Erlend �ye, Bill Wells, Peter Cdoass, Victoria Bergsman, Stevie Jackson and Amy Linton, Dan Treacy, Frida Hyv�nen)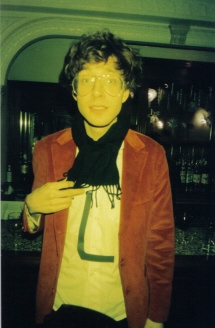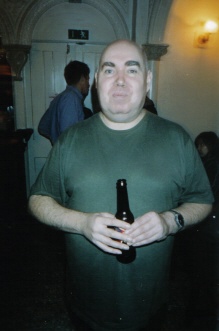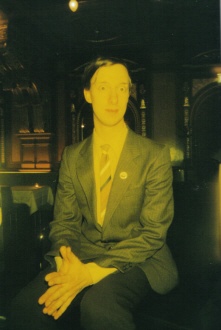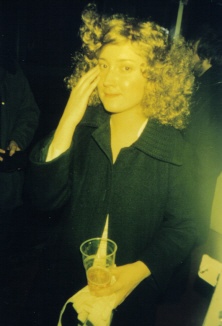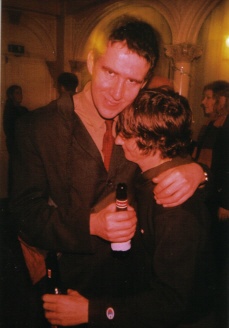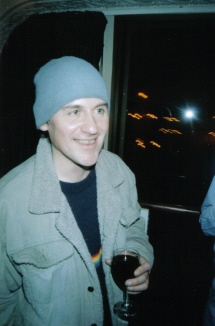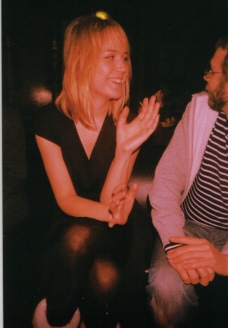 Bill and Dan are supposed to be blue. sorry, i'm stuck at my parents house and didn't have anything to do... i'll make up more amazing news soon.
/jens
-------------------------------------------------------------------------------
January 18th , 2005
Once again I find myself at tv shows and music awards thinking "why am I here?". I'm no good at talking so I shouldn't do live interviews, and I don't like playing songs at parties where the drinks are free and no one wants to hear you sing. I don't usually use this kind of language but: Fuck that!
As for the Grammies: I'm not upset like Mattias Alkberg BD for being nominated, although I think he's right on! His message to the jury made me laugh for at least four minutes (and that's a lot of laughing when you think about it). The Grammies have nothing to do with artistic quality or love for music. It surprises me that they still claim it does (www.ifpi.se). I just couldn't care less... if they want to nominate me - fine. Anyway, I would like to have a chance on the grammy for "Best Lyrics" cause I know someone who I would like to give it to. So I'm sending my recordlabel guy Ola from Service over to pay the hilarious price you have to pay to get in at all. I hope he will have a good time.
Also, on a related story... someone wrote that I wasn't nominated for Rockbj�rnen (the Rockbear) and said that I was only a critics choice artist and not beloved by people in general. "The people are always right" said this someone, as the nominations are based on people voting. I don't think this is true. I just think the people who like my music have better things to do than vote for something called Rockbj�rnen, like falling in love or thinking about what to have for dinner.
Now, the good stuff: the new vinyl 7" called "The Opposite of Hallelujah" will arrive from the factory very soon. If all goes well it will be released next week or at least before the end of January. Apart from the title track it also features "I don't wanna die alone" , a song i played a lot during the spring tours last year and "Love is still a mystery" featuring Jos� Gonz�lez on a very special guest performance. To order it , check back in a few days. We still haven't decided how it will be distributed...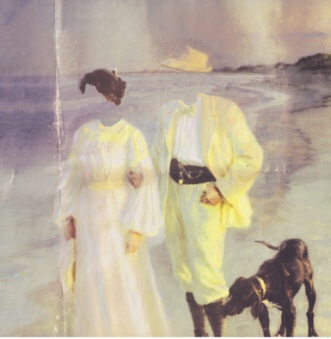 For you who don't like vinyl records, it will also be released on the Hidden Cameras label "Evil Evil" on CD with an extra track "No Time For Breaking Up" which you might have heard on radio during christmas. More news on that later on.
yes:
* Ariel Pink - Among dreams
* Jenny Wilson - Crazy Summer
* Blood Music - It's a Party (and you're invited)

-------------------------------------------------------------------------------