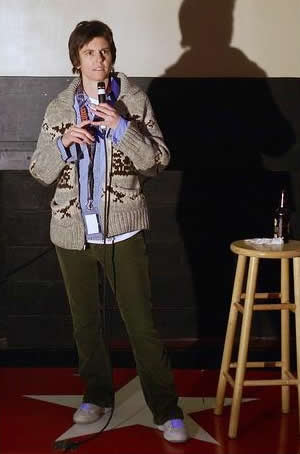 Photo by Heather Christianson
The best thing to do at SXSW last year was to sneak into one of the theatres off 6th Street, sit in the back, order a drink and just watch comedy. I don't understand why anyone would want to see all those bands, to be honest after a few hours of all that noise going on I never wanted to see another band again. Which is kind of the same reason why I once brought along comedian Todd Barry for a tour of Sweden, so I wouldnt have to deal with all the shitty opening bands. Todd also introduced me to Tig Notaro that night in Austin. Her performance was my definite highlight of the whole festival and that's why I asked her if she wanted to join my tour up the west coast.
While on vacation in Italy, she managed to find a few minutes to answer some questions I sent her.
Some Tig Links:
http://www.tignation.com
http://www.myspace.com/tignotaro
JENS: First of all, your name - Tig - how did you get it?
TIG: My brother named me. I'm not sure why he chose "Tig." I've been trying to switch to "Carl" but apparently, it's hard for people to embrace that name when you're a woman pushing 40. We'll see. I'm still hoping it will catch on like wildfire.
JENS: We will be travelling up the west coast, which is your coast. Tell me about it. Why is the West coast the Best coast ? Where do we stop for snacks ?
TIG: I usually like to stop by this little mom and pop in my neighborhood called 7-11 when i want some snacks. Mind if we swing by there after you guys pick me up? I love the entire west coast, but I have to say, the Oregon coast is my favorite portion of it. Hopefully they have 7-11's up there.
JENS: You've been on TV a lot lately, the Sarah Silverman Program, In The Motherhood etc... but seriously, you're funnier than all those people. I mean Sarah and Cheryl Hines are great but when will you get your own show and what is it gonna be about ?
TIG: Well Jens, you are a very kind man. I've actually been in a never-ending holding pattern with this pilot for a tv show where I do stand-up in people's living rooms, garages, backyards, basements, rooftops, barns etc. This guy Wayne McClammy (who directed Sarah Silverman's "fucking Matt Damen" video) is attached as the director, but with both of our schedules and slight changes to the concept, it hasn't been the quickest project. We are actually right in the middle of writing the outline and meeting with comedians, in hopes of shooting it sooner than later. There are also a couple of sitcom pilots being written right now with characters for me, but i'm not sure if its cool to brag about at this point. People I'm REALLY excited to work with, if that matters at all. Sure, i wouldn't be the star of either sitcom, but the actors that ARE the stars would be DREAMS to work with if you were a comedian. Which i am a comedian, by the way. In the meantime, you can catch me online as "Rhoda" on the now defunct sitcom "In The Motherhood" and in 2010 in the new season of the Sarah Silverman program as "Officer Tig."
JENS: I guess the closest we get is your upcoming DVD "Have Tig At Your Party" which is like an advanced version of the fireplace video, with you talking casually into the camera. So is this your party persona ? You just stand in a corner and try to blend in ? We seem to have so much in common you and me.
TIG: If I'm at a party (and to me, a party means more than 2), I go immediately to the snack table and eat all the snacks. Actually, I do that alone too come to think of it. I'm surprised I haven't bumped into you there yet, considering you like snacks and corners too. I hate small talk. Especially in loud atmospheres. I love small groups or one on one. You and I should have a nice quiet one on one party in a corner, eating snacks while we each hold a single balloon and stare at each other.
JENS: What's your take on the art of seduction ?
TIG: Gosh, lately I've just been telling everyone that I'm touring with you. Now guess who's getting groped all the time. Not sure what I'll do after this tour with you. I guess just brag about the glory days of '09. Actually, before you came into my life, I just tried to smile as little as possible and avoid eye contact and that seemed to work like a charm. Oh, and apparently people seem to like it if you can make them laugh too for some reason.
JENS: After Todd Barry joined me for my Swedish tour 2007, he was instantly catapulted into fame and was last seen as Mickey Rourkes boss in Oscar nominated "The Wrestler". To which new heights do you think your career will reach after the two weeks on tour with me ?
TIG: Jens, i think two things are possible. If not both.
A) I'll end up in "The Wrestler II"
B) Latin Grammy
JENS: Why is your name mentioned in the definition of the word "Ass Laundry" ?
TIG: I have no idea. More importantly, why ISN'T yours?!